Venue and Room Information
Meetings will be held at the Spokane Convention Center. All seating and events will strictly follow CDC guidelines. For more information on the convention center's protocol, go here.
Spokane Convention Center
334 West Spokane Falls Blvd.
Spokane,WA 99201 509.279.7000
www.spokanecenter.com
During presentations, please turn off all cell phones or set them to vibrate.
Code of Conduct
If you need to report a code of conduct violation, please click the button below.
Code of Conduct Violation
LODGING
Sleeping rooms will be available at:
The Davenport Grand, Autograph Collection
333 W Spokane Falls Boulevard
Spokane, WA 99201
509.458.3330
www.davenporthotelcollection.com
Book Now
Sleeping rooms will be available at The Davenport Grand at a discounted rate of $169+taxes single/double occupancy until July 31, 2022, or until the block has sold out.
If you are having trouble booking a room, please contact Mary Lou Robinson at mrobinson@burkinc.com.
The health and safety of Marriott's guests is their top priority: For COVID-19 updates and what to expect at the hotel go here.
This is the ONLY way to book a room at the hotel at the JMIH rate!!!
Beware of Unauthorized Hotel Service Providers
It has come to our attention that several exhibitors, attendees, and members have been contacted by housing vendors who are offering to provide room rates and hotel services for JMIH. These companies are NOT affiliated with JMIH!
Attendees and exhibitors should be cautious of companies that:
• Call you directly and claim they are official housing partners and have the best rates for Spokane. JMIH will never call you directly to solicit hotel reservations.
• Claim to be affiliated with JMIH by offering discounted hotel rates, which often can be too good to be true.
• Ask you to provide your contact information and credit card details and require full prepayment in advance.
• Claim to have availability at their advertised hotels, but may take the money for the rooms, then later cancel without refunding to you.
ROOMMATE FINDER INFORMATION
Use the Roommate Finder to get in contact with other JMIH attendees that are looking to share a room and reduce costs! It is an excellent way to network, save money, and add value to the overall conference. You will submit rooming preferences, then will be sent an email when someone matches your criteria.
We do not automatically assign roommates. After you have found a suitable roommate, you will then need to make reservations on your own.
GREENING THE MEETING
At the 1997 meetings in Seattle, it was decided that the Environmental Quality Committee (now the Conservation Committee) would develop recommendations to minimize the environmental impact of the Society's activities. The committee has developed a list of possible actions relating to the annual meeting that can be implemented with minimal inconvenience to the organizing committee and to the membership at large. Many of these suggested actions are dependent on a decision by the Society as to whether and how much members are willing to trade off convenience for cost in the process of reducing environmental impacts (fortunately, many proposed actions are actually money-savers). Our objective in these "greening" efforts is to fulfill the general mission of the annual meeting in the most efficient, environmentally sound, and economic manner possible. For additional information about the ASIH Conservation Committee, contact Frank McCormick.
This year's efforts in greening the meeting will include:
Eliminate disposable plastic products to every extent possible.
Use clip-on name tags that can be recycled. The name tag will be clipped to a recycled lanyard.
Eliminate the meeting bag.
Create a voluntary carbon-offset option as a check-off on the registration form. Individuals can contribute $10, or $20 to a local conservation organization to be selected by the local committee.
CONFERENCE T-shirt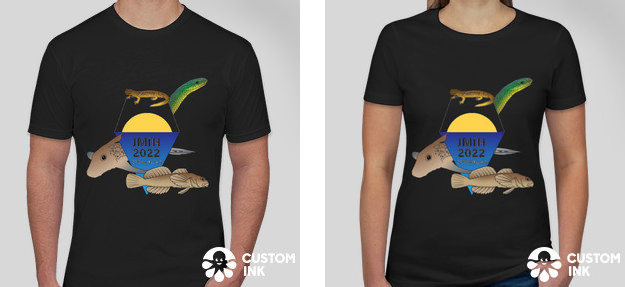 Order your JMIH 2022 t-shirt with your registration.
CONFERENCE ATTIRE
Casual dress is appropriate throughout the meeting. For comfort in the air-conditioned meeting rooms, a light jacket or sweater is suggested.
Registration Desk
The JMIH Registration Desk is staffed to check in attendees and exhibitors and answer any questions you have regarding the meeting.
Internet Access
For complimentary internet in your Davenport Grand guest room, join Bonvoy HERE.
Food and Beverage
Coffee will be served during designated break times.
For dining options in the area:
Fundraisers
SSAR/HL SILENT AND LIVE AUCTION DONATIONS
The SSAR announces the twenty-third Annual Silent Auction to be held at the 2022 Joint Meeting of Ichthyologists and Herpetologists (JMIH) in Spokane, WA, 27-31 July 2022. We are glad to accept any herp-related donations, including but not limited to, frameable art (photographs, paintings, and line illustrations), books, music, glassware, jewelry, clothing and gift certificates for Norfolk area services/events during the meeting week (no live or dead animal products). The SSAR Auction Committee organizes the Annual Silent Auction to raise money to fund the SSAR Student Travel Awards to the JMIH. Your donations help provide opportunities for students to attend and present their research. If you have any questions or are interested in donating an item or two please contact Vinny Farallo for more information.
Messages and Job Announcements
A message or job board will be located near registration.
CHILD CARE
Subsidized childcare is available at the 2022 JMIH meeting. KiddieCorp will be the childcare provider. KiddieCorp is in its thirty-sixth year of providing high-quality children's programs and youth services to conventions, trade shows and special events. They take caring for your children very seriously and is pleased to provide a children's program. KiddieCorp has enjoyed a long-time partnership with the American Academy of Pediatrics, which has helped to establish KiddieCorp as a premier provider of event children's program services.
For more information and to register click here.
Nursing Mothers Room
A room will be available Wednesday-Sunday at the Davenport Grand for your use. There will be a small fridge for storage.
GRADUATE STUDENT INFORMATION
Review information about student awards and travel awards.
FUTURE MEETINGS
Review information about dates and locations for future meetings.
12-16 July 2023
Norfolk Waterside Marriott
Norfolk, VA
PAST MEETING ARCHIVES
Review information from past meetings including abstracts, schedules, and photos HERE