Hotel Albuquerque at Old Town
The American Society for Photobiology (ASP) 2022 Biennial Meeting will be held at the:
Hotel Albuquerque at Old Town
800 Rio Grande Blvd. NW
Albuquerque, New Mexico 87104
www.hotelabq.com
For reservations, click the button below to book reduced-rate reservations in the ASP block or call 1.866.505.7829 and mention American Society for Photobiology.
Book Now
Rooms at the Hotel Albuquerque are at a rate of $229 single/double plus taxes.
Remember: This is the ONLY way to book a room at the hotel at the ASP rate!!!
IMPORTANT - PHISHING SCAM ALERT
For those of you planning to attend the upcoming meeting in Albuquerque , please be aware of possible phishing scams about housing and hotel reservations. There is no official housing bureau for the ASP. All reservations are to be made directly at the hotel from either the online form or calling the number above. Neither ASP nor the hotel makes outbound calls for reservations/sales. If you are contacted by any agency offering to make your hotel reservations for the ASP, we urge you to not use their services and report this to the ASP Meetings Director, Lori Strong, immediately. The rooms these agencies offer are usually at higher rates, are non-refundable and/or carry a significant cancellation penalty.
Remember: the only way to secure a room is by booking DIRECTLY with the Hotel Albuquerque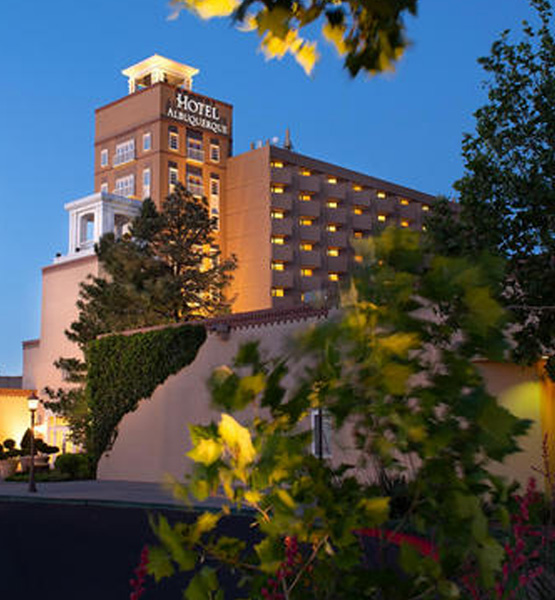 Staying at the Conference Hotel
Why should I book at the conference hotels?
The hotel rates that the ASP has negotiated include many benefits for you and for the ASP. Based on the number of rooms in the ASP block of hotel rooms, the hotels provide complimentary meeting-room space and reduced food and beverage charges. These savings are passed on to attendees through ASP inexpensive registration rates. If ASP is unable to meet its room-block commitment because attendees are making reservations at other hotels, the hotels charge ASP an attrition fee to make up the hotel's lost revenue. If this were to become a trend, ASP would be forced to increase the registration fee and cut services.
Please stay at the ASP conference hotel!