HOTEL ALBUQUERQUE IN OLD TOWN
Hotel Albuquerque at Old Town
800 Rio Grande Blvd. NW
Albuquerque, New Mexico 87104

The hotel does not provide any shuttles to and from the airport.
Parking at the hotel is complimentary.
Albuquerque Airport
Albuquerque International Sunport (ABQ)
2200 Sunport Blvd. SE
Albuquerque, NM 87106
www.abqsunport.com
Directions from Airport to the Hotel Albuquerque in Old Town:
The Hotel Albuquerque in Old Town is just 8 miles (about 15 minute driving) from the Albuquerque International Airport (Sunport). Take I-25 North and I-40 West to Rio Grande Boulevard, and head south.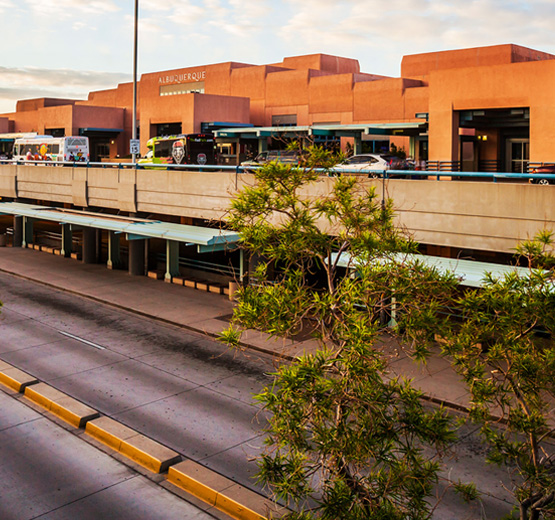 Ground Transportation
Public Transit
ABQ Ride: www.cabq.gov/transit
Fare is $1 for adults, visit the website for bus service times and routes

From the airport: Use Route 250 (Free and runs weekdays only) or Route 50 (weekdays and weekends) from the airport.

Note: At the Sunport the #50 is located on the lower level at the west end of the shuttle island, look for the Bus Stop Signs. At the ATC the #250 is located in Bus Bay "E." Transfer to Route 37, 790, or 766 to get the hotel stop, Rio Grand @ Bellamah

From the hotel:Use Route 36 at Rio Grande @ Pueblo Bonito or transfer to Route 50 from Route 66, 790, 766
Albuquerque Shuttle Service
Groome Transportation
groometransportation.com
505.474.5696
Door-to-door shuttle between Albuquerque International Sunport and Santa Fe
RoadRunner Shuttle & Charter
www.rideroadrunner.com
505.424.3367
Daily Door-to-door shared ride shuttle and private ride charters from the Albuquerque International Sunport to Santa Fe, Los Alamos, Espanola, and surrounding areas
Taos Rides
taosrides.com
575.613.3256
Shuttle service between Albuquerque, Santa Fe, and Taos
Taos Transportation
www.skitaos.com/discover-taos/airport-shuttle
800.776.1111
Provides daily, year-round service from the Albuquerque International Sunport to the town of Taos and Taos Ski Valley. Convenient pick-up and drop-off locations, courteous drivers, and luxurious vehicles
Shared Ride Service
Uber: www.uber.com/airports/abq
• uberX $13-17
• uberXL $26-34
• uberSELECT $28-36
Lyft: www.lyft.com/rider/cities/albuquerque-nm
• Lyft 4 seats $15
• Plus 6 seats $31
• Premier 4 seats, high-end $33
Taxi Service Yellow Cab Company: www.yellowcabnm.com
ABQ Green Cab Company: www.abqgreencabco.net
American Limousine: www.americanlimosabq.com
• Limousines, sedans, SUVs and vans for any occasion. 24 hours a day, 7 days a week
Star Limo: 505 848-999
Carey Southwest Limousine:
carey.com
• Worldwide chauffeured services, 420 cities, 82 countries. Sedans, vans, limousines and mini buses
Real ID, State Compliance, and Airport Security
Click here to read an article regarding new upcoming ID regulations for domestic flights.
Click here to download a Fact Sheet about REAL ID.